Young Alex in safe hands
When 15-year-old Alex Dearden came to ExxonMobil Fawley on a work placement, he knew he would be in safe hands.
For not only does Alex's dad work at the complex, but his Grandad has also been a contractor at Fawley for over 30 years.
Dad, also Alex, but known as Ferg, lives in Hedge End and is the First Line Supervisor for the workshop and Preventative Maintenance Team where he oversees a team of technicians and machinists carrying out repairs and overhauling equipment from around the site.
He too started his association with ExxonMobil Fawley through a work experience placement – staying on for an extra week because he enjoyed it much more than being at school!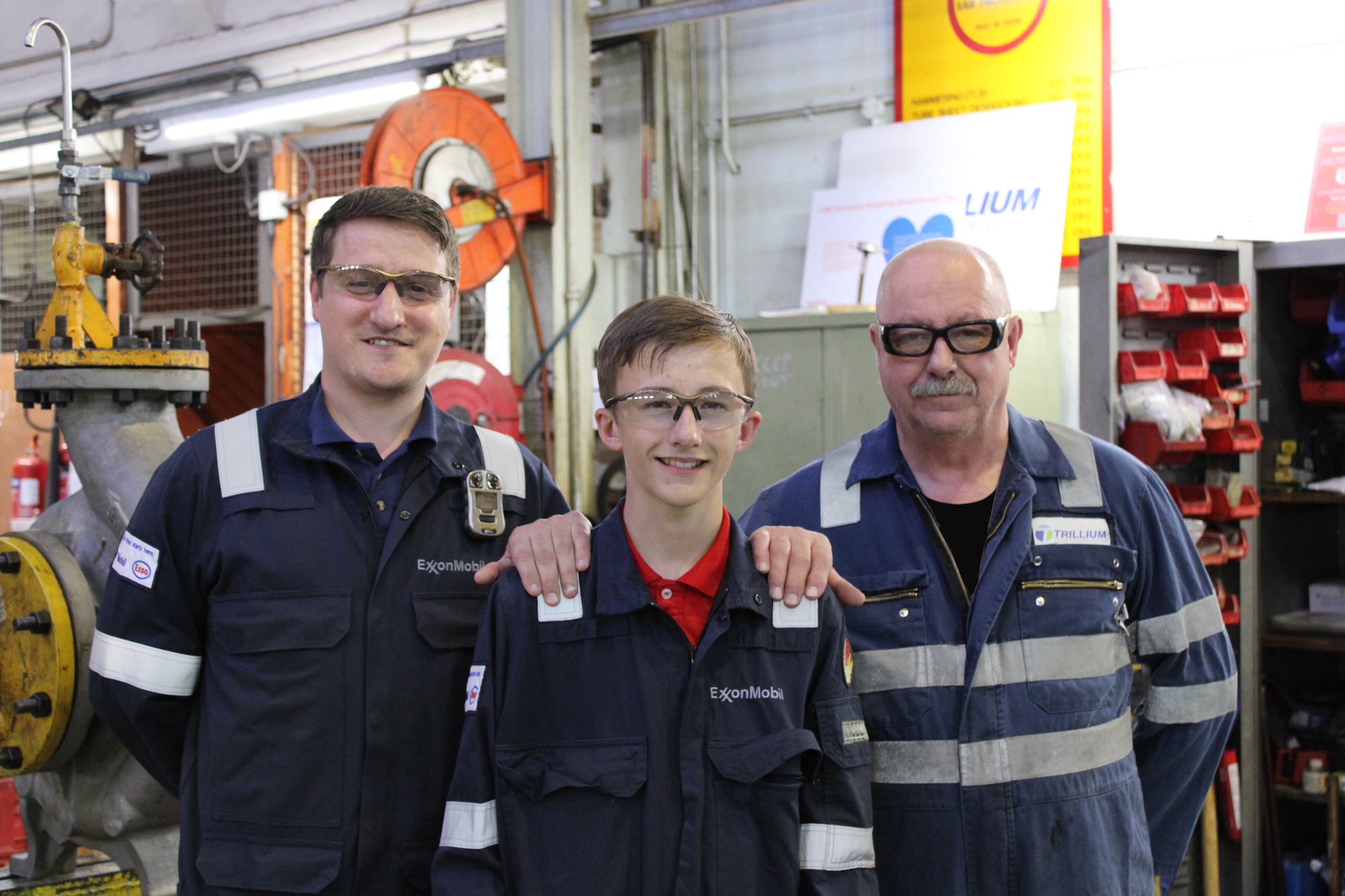 Ferg started out as a contractor in 2006, working for several years in the Preventive Maintenance team carrying out mechanical work on site, before moving into the workshop as a Mechanical Technician and Machinist in 2009.
He joined the ExxonMobil Fawley Machinery Team in 2015 working in the Chemicals area as a Mechanical Technician before going back into the workshop, spending some time on loan to the events team during plant upgrades.
His current role saw him return to work with the teams that he started his working life on.
He said: "I love my job so when Alex was talking about a work placement, I was happy to encourage him to come here, but only if it was what he wanted.
"My Dad wanted me to come and work at Fawley – telling me more times than I can count that it was a great place to work and gave lots of opportunity to those who work hard.
"I'd be happy for my son to work at Fawley Refinery, but only if it was what he wanted to do. I'll support him whatever path he chooses."
Part of Alex's time on site saw him spend some time with Grandad, also Alex, who lives in Weston and is Lead Supervisor for Trillium Flow Technologies. Alex senior was happy to show him what his role involves.
He started work at Fawley in 1991 around the time the Residfiner was built, working as a contractor for the then Weir Engineering Services.
He left for a short spell then returned and stayed, working alongside the EM Machinery Team in several different areas. He has helped train many people over the years in the Machinery Department.
At the end of his work placement, Alex junior said he had really enjoyed himself.
"Some of the highlights were visiting the process areas, seeing how they work and what they produce and how that plays a part in our lives. Working with the maintenance team was my favourite part – it was really interesting to see how they look after, fault find and repair the equipment.
"It was also good to see what my dad and grandad do at work and spend time with them."