Meet ExxonMobil Fawley's 'fab four' female engineers
Four of ExxonMobil Fawley's senior female engineers, who hold some of the most important roles on site, are encouraging more girls to consider a career in engineering.
Meet ExxonMobil Fawley's 'fab four' female engineers
Annita McCurdy, Cat Flynn, Helen Ross and Sara Dawe have some of the most senior leadership positions at the New Forest complex – the largest in the UK.

But, while the number of female engineers in the UK is growing every year, women are still under-represented in the field, and this is something they are keen to address. Read their stories below.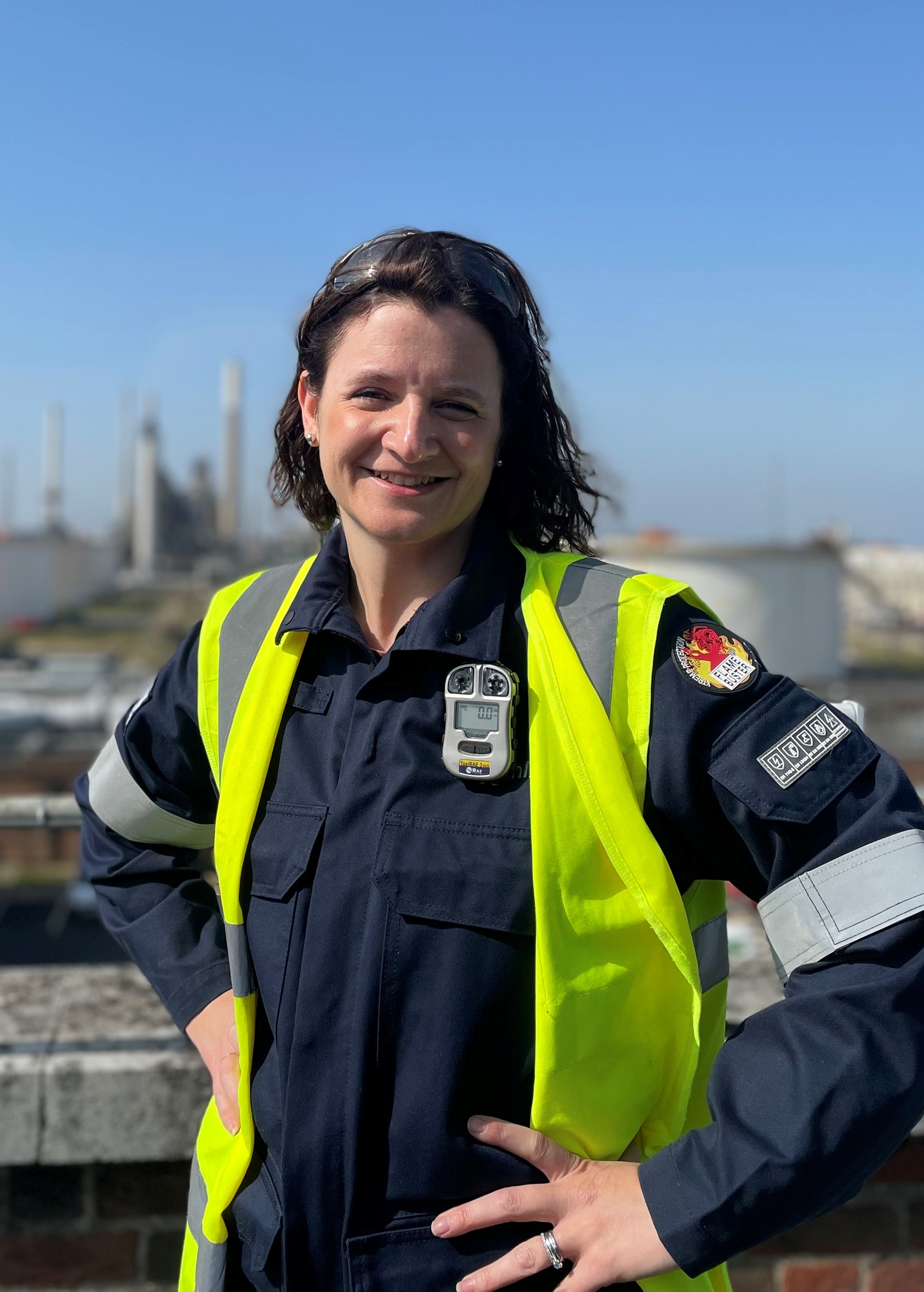 Helen Ross
Chemicals Process Manager
Helen has worked for ExxonMobil for 17 years, starting her journey with the company by completing an eight-week summer course at the Fawley Refinery while studying for a Masters in Chemical Engineering at Nottingham University.
"I always enjoyed science and maths at school, understanding how things worked and problem solving in teams, and I realised engineering actually offered all of these. My summer placement really helped me to understand what an engineering role in industry involved – getting real perspective and putting into practice what I'd been studying".
A career in engineering with ExxonMobil has enabled Helen to live and work in several different countries across the world, and hold a wide spectrum of positions from Operations Engineer to Product Manager, Maintenance Support Head to Senior Project Advisor – with every role providing unique opportunity for her to learn and work with some "truly inspirational people".
Helen started her career at Fawley in 2004, and since then she has lived and worked in Fife, Houston and ExxonMobil's headquarters in Dallas and just recently returned to Fawley as Chemicals Process Manager.
"I couldn't have achieved all I have without my husband, David, who has been a phenomenal support to me and our family through all our adventures," she said. Helen actually met David, who is from Fife, at the Fawley site where they worked together as fellow Chemical Engineers. They now live in East Wellow along with their two young children Finlay (7) and Emily (5).
"I like to think that I will inspire my daughter to explore a wide variety of career options, without any boundaries or feeling she needs to follow a set path," added Helen. Reflecting back on her degree choice Helen shared how engineering provides a great platform for a wide variety of careers.
"It helps to build a broad range of skills from problem solving and analytical skills to collaboration and innovation, and opens up many different career paths.
"Engineering is essential to modern society and will play a vital role in the energy transition.
"I have been extremely lucky to work in a range of different locations and meet some truly inspirational people. I've also had the opportunity to play a part in producing and developing products that are used in everyday applications, from face masks to tyres, nappies to hand sanitiser, and excitingly working with customers to develop lower carbon products of the future," she said.
"I would encourage any girls considering their future to give engineering some serious thought."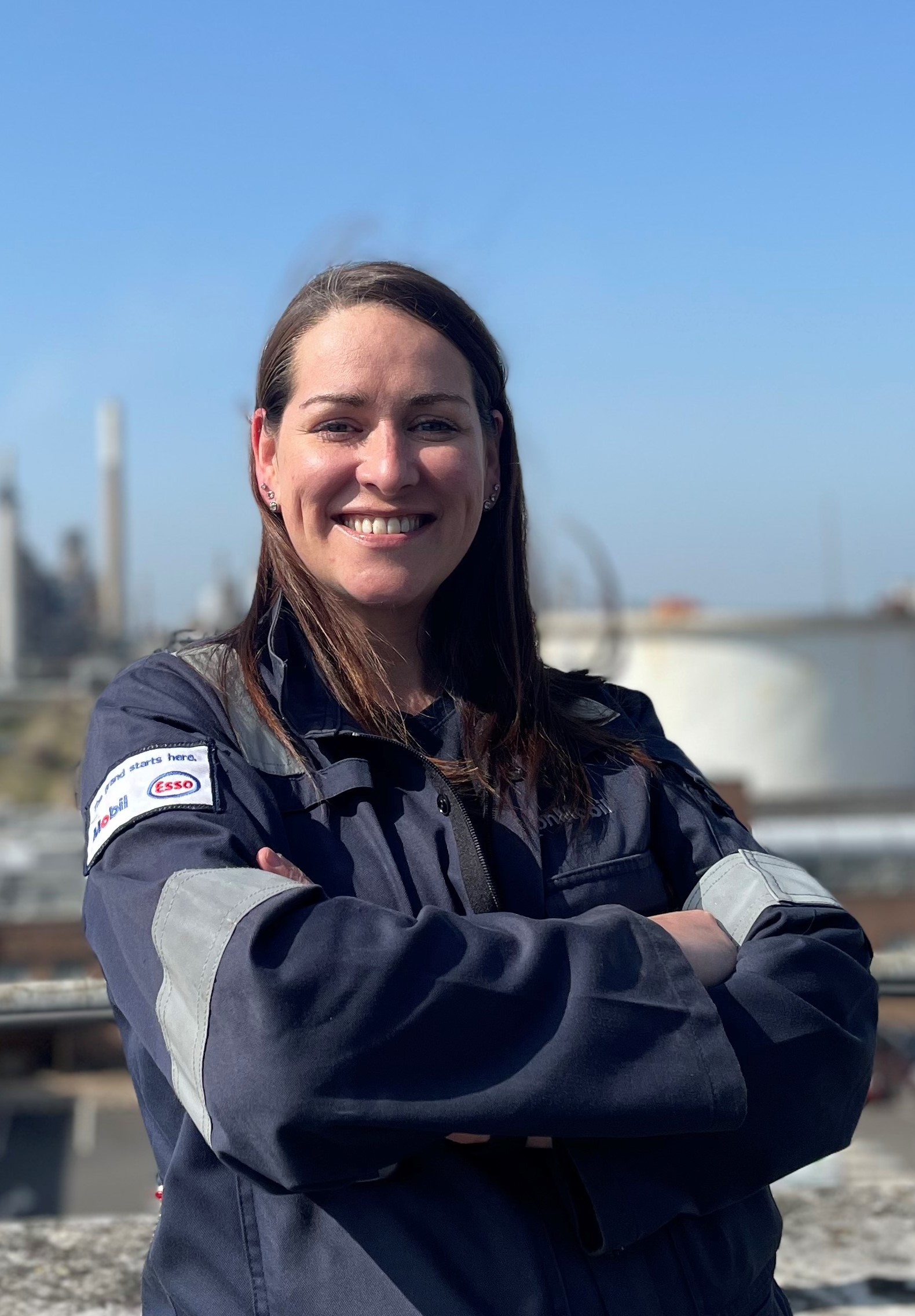 Annita McCurdy
Process Manager
It was while studying in Edinburgh that Annita, who is originally from a small village on an island off Northern Ireland, heard about ExxonMobil's intern programme.
"At that time oil and gas in Aberdeen was a huge industry and drew a lot of engineers, but a number of people I knew had been on the ExxonMobil program in Fawley so applied too and was successful. I came to Fawley for 8 weeks over the summer before my final year and was offered a job right at the end of the placement."
She has never looked back, starting in 2003 and working her way steadily up the ladder, with roles in operations, commercial and trading and strategic planning at ExxonMobil refineries and head offices around Europe and the USA.
In her current, very important role, she is responsible for the safety, reliability and profitability of operations within the refinery.
"I love change, continuing to learn and develop myself and that's one of the reasons engineering has been perfect for me. The variety and responsibility continues to grow all the time – and now in the time of the energy transition that only becomes more exciting!
"Throughout my career I have met incredible women in our industry and I am passionate about active support for females in engineering – I would strongly encourage any young women with a passion for STEM to consider engineering.
"Every day brings something new - having a strong team around to support and drive the business forward is vital. I love the people development side of the role and having the opportunity to work with the incredible talent of the people here at Fawley.
"We are a key part of the infrastructure of the UK and we are looking to the future through energy transition.
"If you work hard there are a huge amount of opportunities open to you as an engineer and I have seen that all the way through my career. ExxonMobil is a great company for growing people and giving them different experiences outside their capabilities."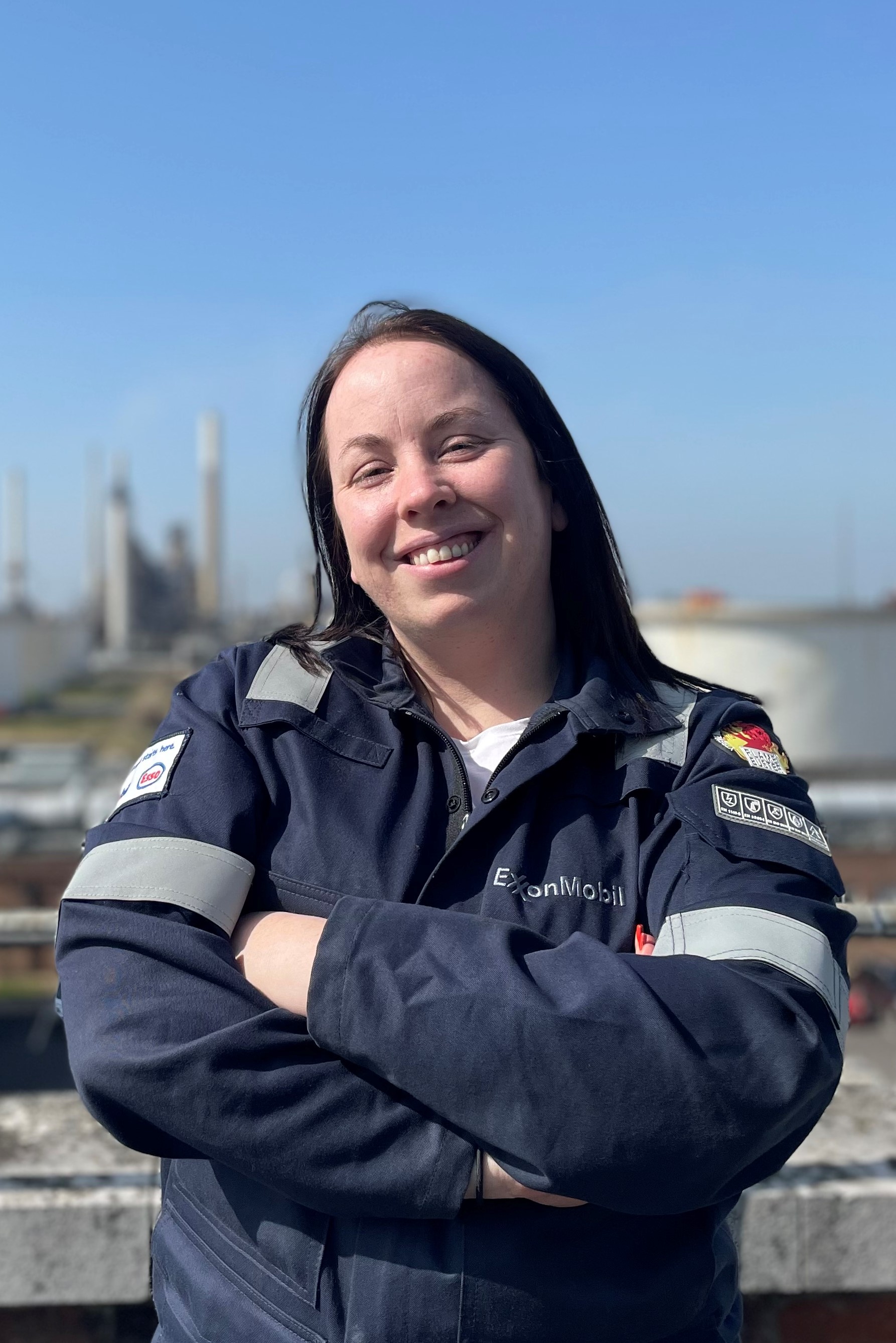 Cat Flynn
Business Team Leader, Fluid Catalytic Cracking Unit (FCCU)
Cat Flynn credits ExxonMobil for helping her to reach the senior position she now holds.
Growing up in a typical Belfast family, Cat never imagined she would be helping to run one of the most iconic production units at the UK's largest oil refinery.
"The company saw something in me that I didn't see in myself and pushed me to be the best I can be," she explained.
She went to Queen's University, Belfast, to study Chemical Engineering after deciding to become an engineer because a friend of her dad was one and she "knew it was a good job."
While there she did an industrial placement year at Fawley and was offered a job at the end of it.
She said: "When I applied for the job at ExxonMobil, I didn't actually think I would have a chance of getting it."
After following a typical start on the Fawley Graduate Programme – starting as a Development Engineer before moving into the supply organisation in a scheduling then economist role – she moved into an operations role in the process department before going on to work at ExxonMobil's UK headquarters, buying crude for French refineries.
She returned to Fawley at the end of 2020 in her current role where she runs the Fluid Catalytic Cracking Unit, Residfiner and Treating Units making chemical feed, petrol and diesel for the chemical part of the refinery.
"I have around 80 people reporting to me, so there is a lot of responsibility.
"The best part of my job is working with a lot of talented people, making a lot of money and helping to create change.
"It can be a challenge to get the right work/life balance but thankfully my boyfriend helps, and over the years I have got better at it as I used to work too much.
"Some people quite obviously don't expect me to be the boss, but what I will say is that for as much as I have had a bit of bias, some of my closest allies have been male and they have helped me a lot along the way.
When I started we had one female operator, we now have eight and they are all great at their jobs.
"It's a great career and has given me a lot of confidence in other areas of my life such as dealing with car mechanics! This is a career where you can excel, and diversity and inclusion is growing within our industry."
Sara Dawe
Business Team Leader, Reforming and Lubes
Sara always knew that her career lay in the scientific field, as Maths and Science were her favourite subjects at school.
She studied Chemical Engineering at Bath University and did a placement year at ExxonMobil Fawley in 2007 before starting as a graduate in September 2009.
She started out in the technical department working as a Development and Contact Engineer, tasked with improvement projects, before going on to work in supply operations with responsibility for meeting customer demand for petrol, diesel and jet fuel in the UK. Then followed various roles within site co-ordination and scheduling.
One of the roles she really enjoyed was working at the Fawley Marine Terminal as the Operations Supervisor for two years, where she oversaw the day to day jetty operations and managed interactions with the Port of Southampton.
"It was a really interesting job and my favourite role to date. It involved managing and optimising Fawley jetty operation which was dynamic in nature due to many variables, and this always felt exciting."
She then progressed into maintenance, establishing a new estates team, and then moved to a Group Head role within supply, setting the short to long term strategy across the Fawley site. After this, she moved to a Business Analysis Supervisor role, completing corporate analysis and financial reporting.
"All the roles that I have done so far have been varied and have allowed me to gain a different perspective on how the business is run," she said.
In her current role she is responsible for the reforming and lubricant units at Fawley, encompassing business performance, reliability and safety.
"The reforming units make petrol by improving octane ratings and removing impurities, as well as providing hydrogen for other units on site. The lubricant units make de-waxed oil and wax for the basestocks and specialties market.
"The best part of my job is working with my team. If we have any issues then I know that we can work together to come up with solutions and it is always good when you get the right results.
"I would encourage any girls considering a career in engineering to go for it and to be authentic and true to themselves and not try to meet a particular stereotype."