Fiona McEwan - Tours and Tests with F1
Living life in the fast lane
When it comes to living life in the fast lane, few can compete with ExxonMobil Fawley scientist Fiona McEwan. For the 27-year-old, who is originally from Lanark in Scotland and now lives in Southampton, is a Racing Technical Adviser for the Formula 1 Oracle Red Bull Racing team.
ExxonMobil became the Red Bull Racing F1 team's official fuel, lubricant and motor oil partner in 2017. Fiona travels the world on the F1 racing circuit testing all the Esso fuels and Mobil lubricants used in the Oracle Red Bull RB18 racing cars to ensure they comply with the FIA (Federation International de l'Automobile) regulations. It's a fast-paced role she never envisaged when she studied Chemistry with Drug Discovery at Strathclyde University, with a view to entering the pharmaceutical industry.
"When I graduated, the recruitment agency I was with contacted me to say there was a job as a lab technician at Fawley. I didn't even know where that was, except that it was a long way from home, but I knew it would be silly to turn down such a good position, so I decided to give it a go.
"I really enjoyed testing the fuels, lubricants and chemical products produced there and I spent four years working in both the labs before this job came up."
And Fiona says it was being in the right place at the right time which helped her to land her incredible job.
"The person doing the F1 job before me worked in the labs at Fawley, so when he decided it was time for him to give it up, they decided to advertise there again. I heard about it, asked some questions about the role, applied and was lucky enough to get it.
"It's certainly not the job for everyone as there's lots of travelling and time away from home, but I have no commitments and it was ideal for me.
"In the beginning it was tough as we spent pre-season in the factory in Milton Keynes preparing. It was long hours – 11-14 hour days – and some weeks we worked six days straight, but I was told if you can survive that, then you'll be ok. When I started actually working on the race circuit, I loved it.
"The team has been very welcoming, and we do a lot of socialising, so my worries about spending all my time when I wasn't working in a hotel room have been unfounded and I'm really enjoying it."While I spend my time working with fuel and lubricants, when you are in the paddock watching all the drivers and celebrity guests it is exciting.
"I was never particularly interested in motor racing before I took on this job, but now, even when I'm not working, I will watch the races."
And Fiona says travelling and work takes up most of her time.
"We normally fly out to the race circuit on a Tuesday and set up our lab the next day. We test all the fuel drums sent to the track for quality and to ensure they meet the FIA regulations.
"At the start of every session we test the fuel and we test the lubricants before and after the sessions. We monitor the gearbox, engine and hydraulic oils for issues such as wear or high friction which could affect the car's reliability.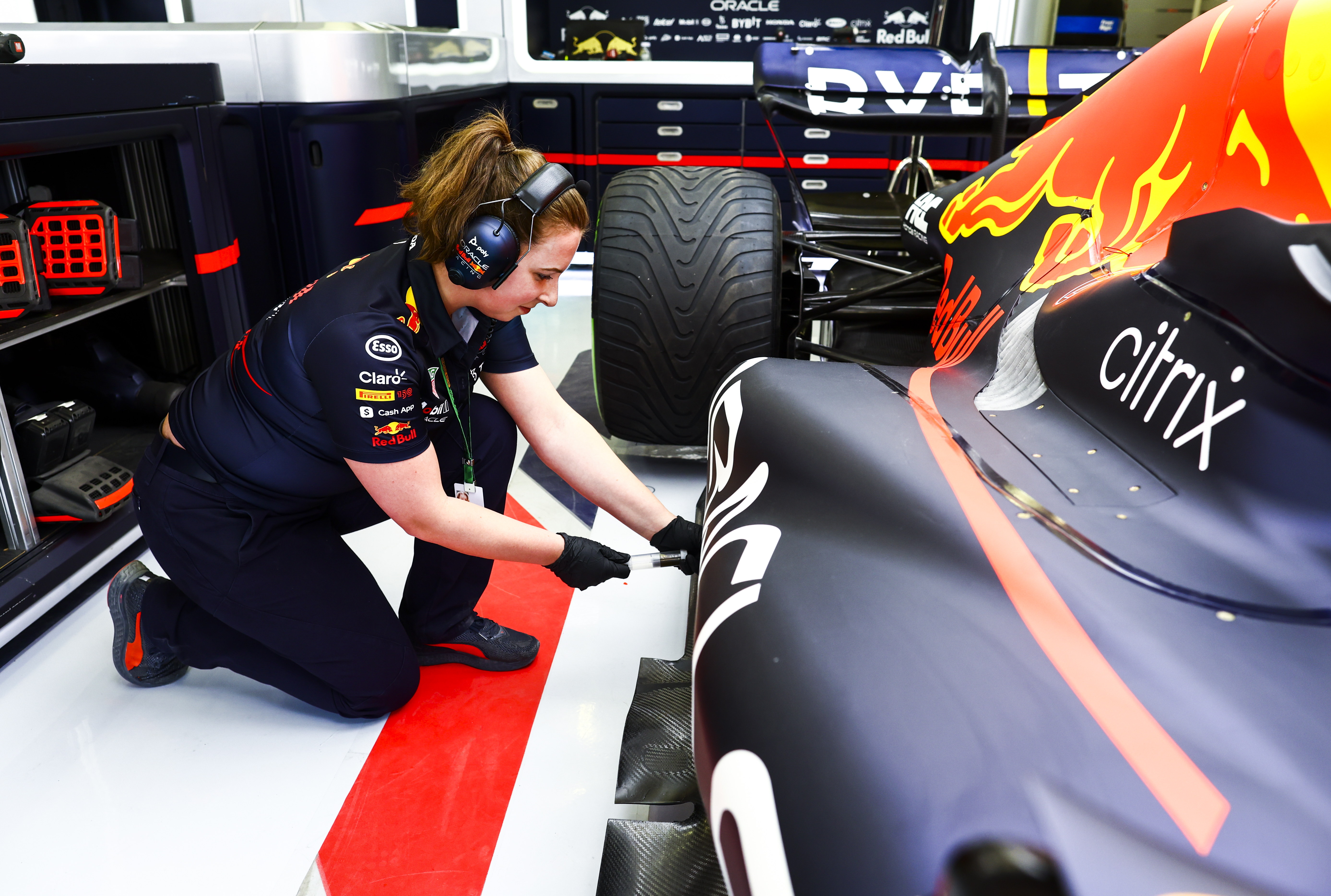 "The FIA can do spot checks at any point, and we take samples at the same time for our own testing.
"We don't do any testing during the race itself, so I have the chance to watch it. I've met both of our drivers (Max Verstappen and Sergio Perez), and seen most of the others around the paddock.
"I did my first race on my own at Imola in Italy and the atmosphere was incredible. It's great when we win!
"The best part of my job is the problem solving. In an ideal world nothing would go wrong with the car, but when we have potential issues, working with the team to work out how to fix it is really satisfying.
"I share the job with my colleague Ion from Prague, and we decide which races we want to do, so there is a bit of flexibility. You can be away for weeks at a time and I have Belgium the Netherlands and Italy coming up soon, when I will be away for 3½ weeks in total.
"So far I have done eight out of 12 races, so I have been pretty busy!
"I don't get back to the Fawley complex very often, but I was there recently for an open day, and I try to stay in touch.
"I have been very lucky in my ExxonMobil career so far, and I would encourage any young person considering becoming an engineer to go for it if it's what they enjoy.
"You never know, they could end up being in the right place at the right time like I was!"