Fawley's fab four female engineers
Four of ExxonMobil Fawley's senior female engineers, who hold some of the most important roles on site, are encouraging more girls to consider a career in engineering.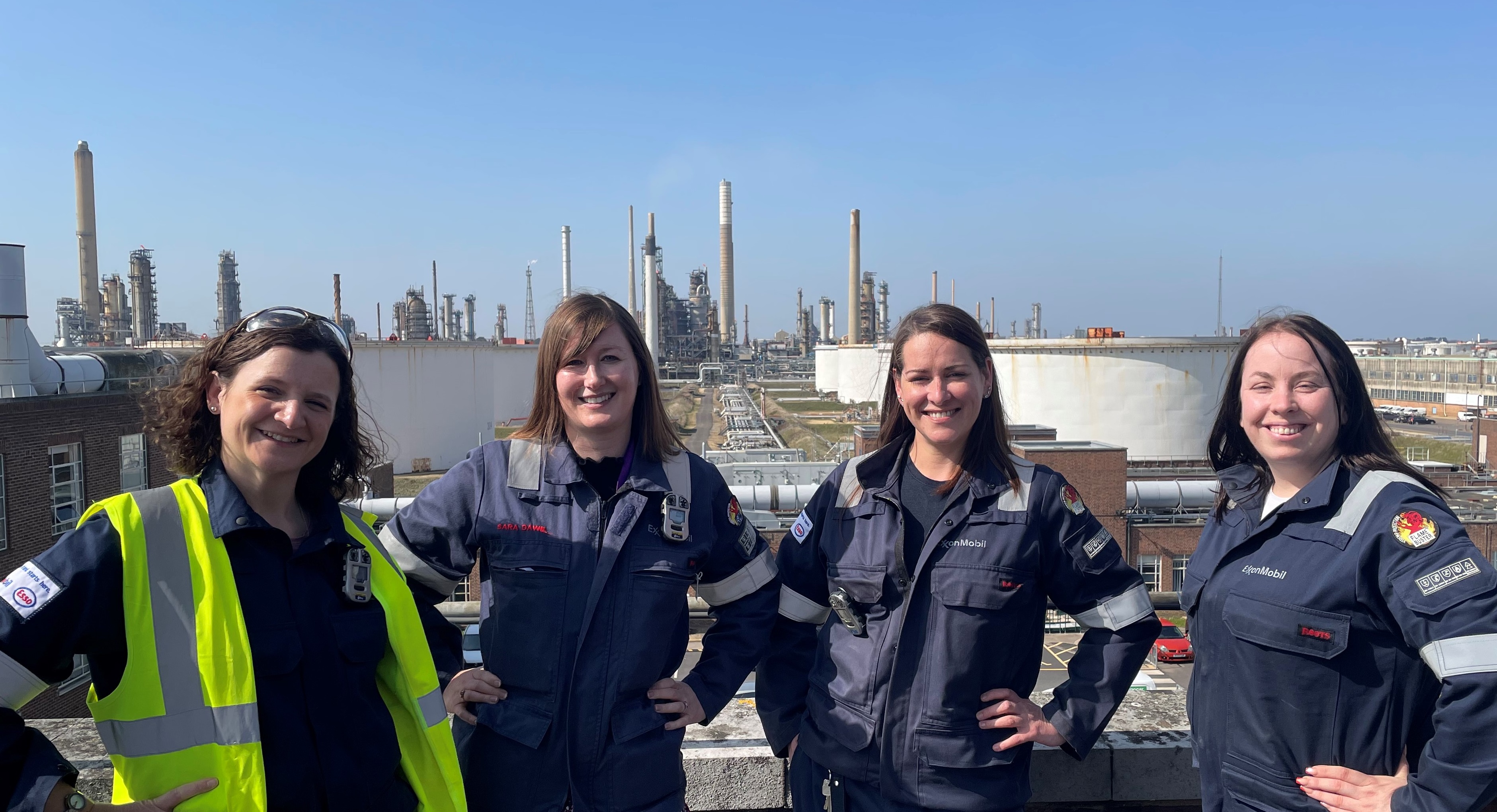 Annita McCurdy, Cat Flynn, Helen Ross and Sara Dawe have some of the most senior leadership positions at the New Forest complex – the largest in the UK.
But, while the number of female engineers in the UK is growing every year, women are still under-represented in the field, and this is something they are keen to address.
Annita, Cat, Helen and Sara came to work at Fawley after initially taking part in work placements at the site while studying at universities across the UK. All showed their aptitude for engineering and were offered places on ExxonMobil's graduate programme on completion of their studies.
Annita and Helen who are Process Managers for the Refinery and Chemicals units respectively, both live in the local area and work with their teams on the safety, reliability and efficiency of operations.
Annita reflected on her decision to pursue a career in engineering.
"I had no idea what I wanted to do when I left school. I loved maths and science but wanted to do something practical and have a vocation after I graduated - a careers adviser suggested Chemical Engineering and I didn't look back!"
Since she started in 2003 she has worked in a variety of roles including operations, commercial and trading, and strategic planning. She has had the opportunity to work in a number of locations across Europe and the USA.
"I love change and continuing to learn and develop myself, and that's one of the reasons engineering has been perfect for me. The variety and responsibility continues to grow all the time – and now in the time of the energy transition that only becomes more exciting!
"Throughout my career I have met incredible women in our industry and I am passionate about active support for females in engineering – I would strongly encourage any young women with a passion for STEM to consider engineering."
Helen also spent some time deciding on her career options, "I always enjoyed science and maths at school, understanding how things worked and problem solving in teams – and realised engineering actually offered all of these."
She started her career at Fawley in 2004, and held various roles at the site from development and operations engineer to business analysis and supply economist. She also met her husband David there.
Since then they have lived and worked in Fife, Houston and ExxonMobil's headquarters in Dallas and Helen just recently returned to Fawley as the Chemicals Process Manager.
"I have been extremely lucky to work in a range of different locations and meet some truly inspirational women. I've also had the opportunity to play a part in producing and developing products that are used in everyday applications, from face masks to tyres, nappies to hand sanitiser, and excitingly working with customers to develop lower carbon products of the future," she said.
"Studying engineering provides such a broad base of potential careers and will be critical for the energy transition. I also like to think that I will inspire my daughter to explore a wide variety of career options, without any boundaries or feeling she needs to follow a set path."
Cat Flynn, is Business Team Leader for the Fluid Catalytic Cracking Unit, Residfiner and Treating Complex at Fawley, which makes petrol and diesel and the feed stock for the chemicals side of the site. She is responsible for an 80-strong team.
She started out as a development engineer before moving into a scheduling role in the supply organisation then into an economist position.
She worked for two years in ExxonMobil's UK headquarters where she was responsible for buying crude oil, returning to Fawley in 2020 in her current role.
"I have experienced a bit of gender bias, with people not expecting me to lead a team, but some of my closest allies have been male and they have helped me a lot along the way.
"When I started we had one female operator, we now have eight. I am the first female team leader of the CAT plant, and more women are now considering engineering as a career, which is great."
Sara Dawe is the Reforming and Lubricants Business Team Leader looking after the business performance, safety and reliability of the products made in her units.
The Reforming units make petrol by improving octane ratings and removing impurities, as well as providing hydrogen for other units on site, while the Lubrications units make de-waxed oil and wax for the specialties market.
Sara started working at Fawley in 2009 and has had many roles within the Technical group and a UK supply operations role, where she worked to help meet customer demand for petrol and diesel.
She has also worked as a product analyst and at the Fawley Marine Terminal as the Marine Terminal supervisor, working with external companies and groups making up Southampton Harbour to manage the Fawley jetty's daily operations.
"I have had a very varied career and enjoyed it all," she explained.
"The best part of my current job is working with lots of different and very talented people. If I have any challenges I know that we have the skills to come up with solutions, and it is always good when you get positive results.
"I am a bit more introverted than some of my co-workers, but there is now much more recognition that people work in different ways and that these ways can lead to just as good, if not better results."