Lending a helping hand to Hampshire communities
More than 50 local schools, charities and community groups in and around Southampton and the New Forest area benefited from donations of over £125,000 from ExxonMobil Fawley last year.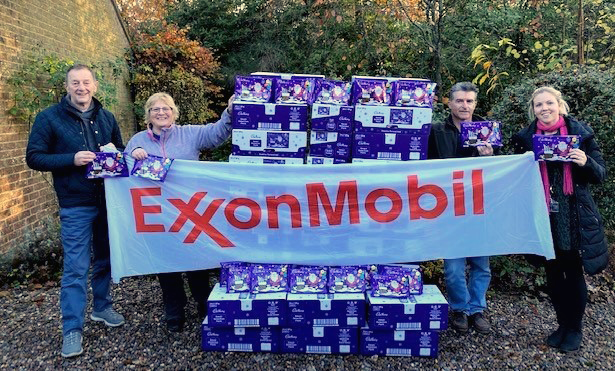 New uniforms, specialist firefighting equipment and funding for training were all on the wish list of Hampshire and Isle of Wight Fire and Rescue Service for its Fire Cadets.
And ExxonMobil Fawley has stepped in to help them realise many of these wishes, with a huge £30,000 donation to the inspiring Cadet scheme.
The Fire Cadets is a training programme run by the fire service to give youngsters between the ages of 13 and 17 the opportunity to gain essential social, life, work and wellbeing skills, and develop their confidence and personal skills.
Meeting for two hours a week at local fire stations, they take part in firefighting drills and first aid training – getting to grips with real firefighting equipment.
They also represent the Fire Cadets at community events and take part in fundraising activities.
They learn new skills like team work, communication and leadership while improving their health, fitness and general wellbeing. Completing the programme also gains them a recognised BTECH qualification.
The contribution from ExxonMobil will help to fund the purchase of Fire Cadet uniforms as well as special protective clothing for firefighting drills and equipment for the Fire Cadets and its volunteer instructors. It will also fund the ongoing programme delivery, qualifications, activities and events they are involved in.
The programme runs for 40 weeks, and there are opportunities for some to progress to become Cadet Crew and Watch Managers, where they mentor the younger Cadets for a further two years.
Karen Farr, the Fire and Rescue Service's Manager for Young People, said: "On behalf of the Service I'd like to extend a huge thank you to ExxonMobil for this generous donation.
"This substantial investment in our Fire Cadets programme will ensure we can continue to make a real difference to the lives of young people across our communities and the volunteers who support them."
And she shared some quotes from two of the young people involved in the programme:
Kay said: "Cadets has encouraged me to stand up for myself and I have learnt how to make sure I am listened to. We have had experiences that most people won't get the chance to have. The difference from when I started cadets to now is stark, I've come so far. The instructors saw potential in me and enabled me to become someone I can say I'm proud of."
Aimee added: "I love cadets because it challenges my skills and I enjoy it greatly. I love learning how to become a qualified firefighter and everyone makes it so that you are confident with what I am able to do and perform to the best of my ability. I used to be a shy person, but Cadets has made me much more confident and outgoing. I believe in myself now and I know I can achieve anything I set my mind to."
Rich Rastall, Health and Safety Manager at ExxonMobil Fawley, said: "The skills that the cadets will gain will set them up well for the future, so we are pleased to be able to help this important work with youngsters in our local communities."