International Women's Day
International Women's Day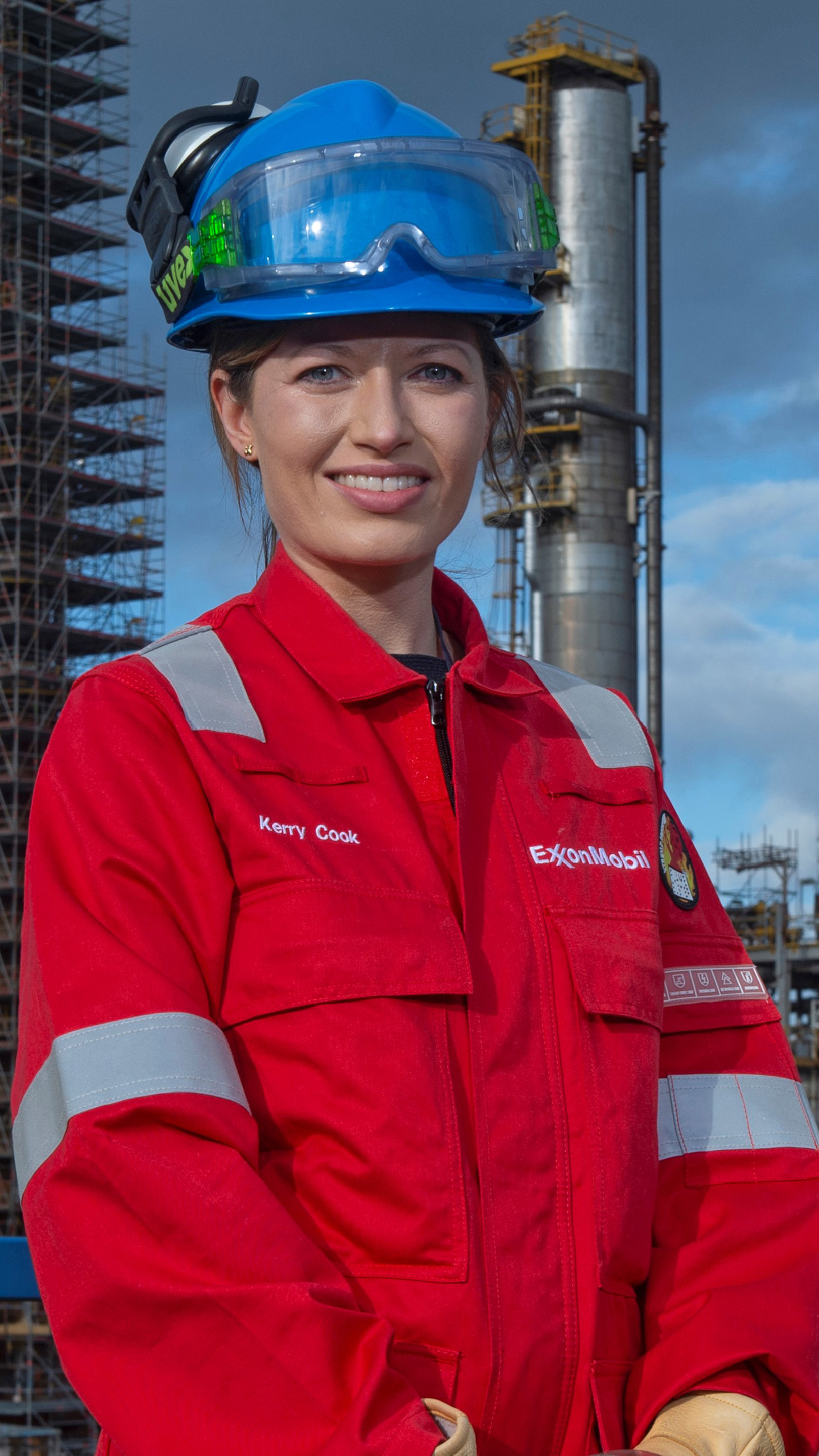 Safety, Security, Health and Environment Manager Kerry Cook started her career with ExxonMobil directly after leaving university.
"I had always liked science, but it was the practical application that appealed to me," she explained.
"You can learn the theory, but seeing how it is useful in real life was why engineering was the draw for me."
Kerry grew up in Omagh, Northern Ireland, and obtained a degree in Chemical Engineering from Cambridge University.
Between her third and fourth years at university she attended an eight-week summer internship programme at ExxonMobil's Fawley refinery near Southampton and was offered a job at the end.
"It was great going back to complete my final year knowing I had a job to go to," she said.
Kerry started work at Fawley in 2010 as a Development Engineer, working for the technical team on long-term improvement projects.
She then became an Operations Engineer, more involved in the day to day running of the plant.
That job transitioned into a Contact Engineer role with a more technical monitoring and trouble-shooting responsibility.
"That gave me good understanding and experience of a real life plant. From there you can either choose to specialise in one area or go on a different pathway and I chose the latter."
She moved into the supply team, scheduling for the plant's rubber production and managing the raw materials for the chemicals.
Then followed a spell with the safety team, when she was involved in operations integrity and data analysis before moving into a Reliability Lead role, leading the development of the annual maintenance plan and working on long-term improvement strategies.
Kerry came to Fife in 2019 as Process Support Manager, with a key role in developing the plant's operations integrity,global reliability and training systems to drive functional excellence across the Process Organisation.
Her most recent role as Safety, Security, Health and Environment Manager (SSHE), is a key post which sees her leading a team responsible for ensuring the safety and security of plant's operations and people.
"I've never thought of myself as a female engineer. I'm an engineer and I have always been accepted as one of the team," she explained.
"Engineering is a great career and I would encourage anyone interested in the practical application of science to consider it."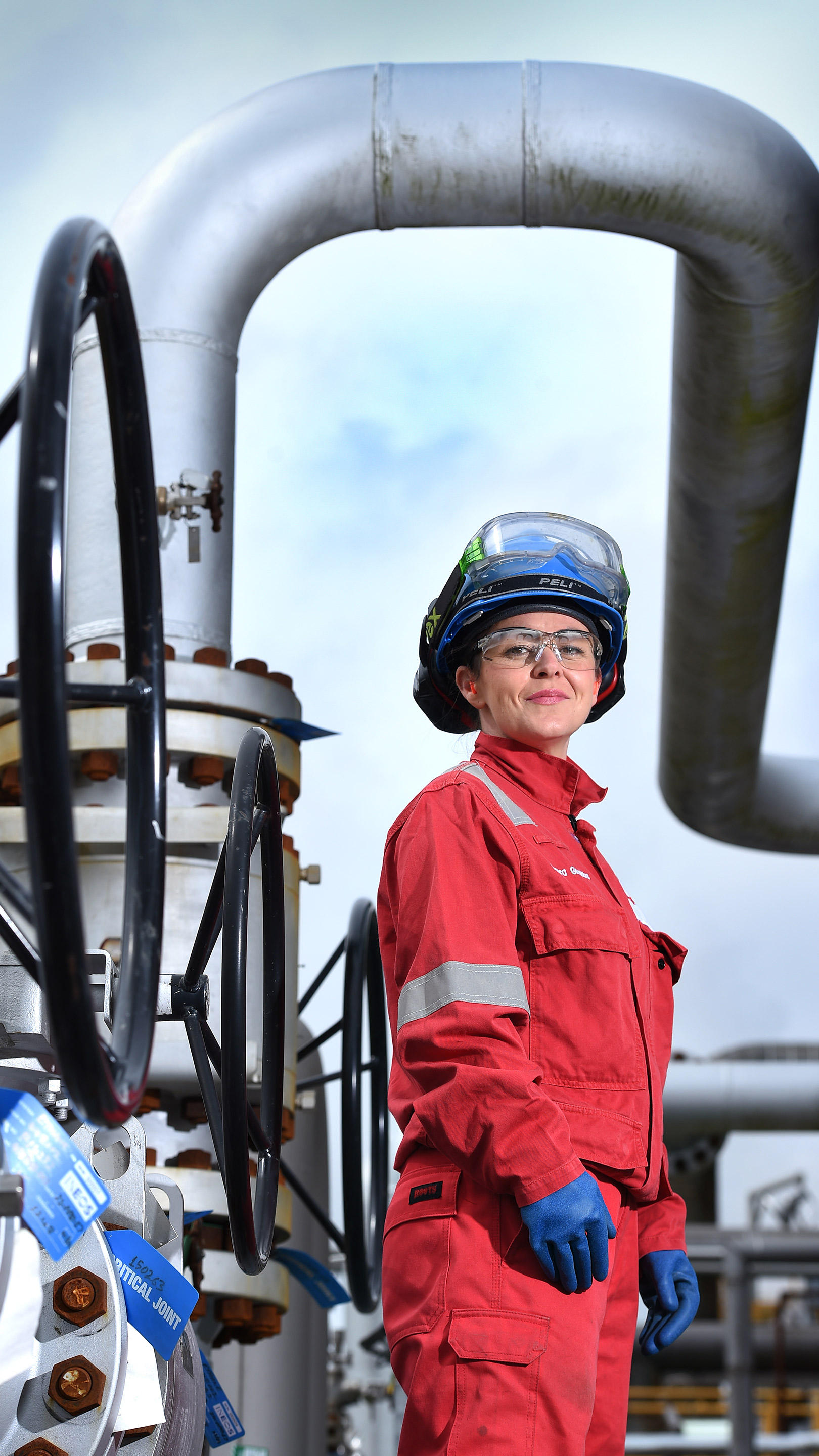 Tamra Griffiths came late to engineering, after spending the first 15 years of her working life in administrative roles.
But, since becoming a Process Planner six years ago, she has never looked back.
Mum of two teenage sons, Tamra explained: "I had my family when I was quite young, and admin was something that I just sort of fell into as it suited my life then.
"Then when I moved into my 30s and my children got a bit older, I really felt like I wanted a challenge."
She was working as an operator at Diageo in Leven, while also studying a college course in fabrication, welding and inspection.
"I had always been interested in the inspection and safety side of the industry and I wanted to do something more hands-on.
"I applied for a position in inspection, but I was lucky enough to be offered a post as a process technician at FEP because of the experience I had at Diageo.
"It has been the best thing I have ever done and I wish I had done it sooner.
"I trained and gained experience and became a process planner over three years ago. My job involves planning how to safely shut down, clean and isolate equipment allowing the maintenance and mechanical team to safely work on anything from pumps and turbines to drums and towers.
"It's a fantastic job and no two days are the same. The guys all just accept me for who I am and I have never had any issues with being female.
"I think it would be great to get more girls to consider a career in the field of engineering because it's very exciting and interesting.
"I don't think gender should ever stand in the way of people doing what they love."
"If you find the career that sparks your interest, go for it, and don't let anyone question your decision or hold you back," says Process Planner, Donna Hunter.
And she should know as she has worked in the industry for 15 years.
Donna's interest in engineering was sparked by her Grandad who was an electrical and mechanical engineer at Torness power station.
Her favourite subject at school was physics and she loved taking things apart and seeing how they worked.
When she left school in Eyemouth she moved to Falkirk to be nearer some of her relatives.
She saw an advert for an apprenticeship with BP at Grangemouth which she applied for and was successful.
She studied at Forth Valley College, one of two females among 30 males, and gained her apprenticeship, specialising in the field of process.
Donna worked as a Process Technician and Permit Issuer with Ineos from 2007 until 2014, ensuring the equipment was kept in proper running order, identifying maintenance issues and doing lots of work in the field of health and safety.
In 2014 the company closed the ethylene plant she worked on and she spent two years working as a planner, de-commissioning the mothballed plants for demolition.
She came to Fife Ethylene Plant in 2017 and worked as a Process Technician for a short spell before moving over to the planning side.
"I love getting involved in new projects and jumped at the chance to be one of the first in this team to help implement new procedures and practices," she explained.
"It meant that I changed from working 12 hour shifts to normal office hours - less hands on and more office based but I get to see how things work behind the scenes," she said.
And she is keen to see more women opting for a career in the engineering field.
"It offers a huge variety of careers and can open up so many doors, including the option to work in different countries if you want to."
Applications Engineer Sarini Naidoo has come half way round the world to work at FEP.
Science was her first love, and when she attended an information day at Auckland University in New Zealand to encourage girls into engineering, her mind was made up.
"Engineering is one of those disciplines that opens you to a diverse career in a variety of different fields" she explained.
"You are not limited to just engineering, you can go into management, finance or consultancy work. It offers a great breadth of knowledge for someone unsure of what they want to do."
She studied for a BEng in Chemical Engineering and, after graduating took a year out to travel.
On her return she took up a graduate project engineer role in Auckland, commissioning control systems for engineering plants.
This led to her first role was working in the Australian Outback in one of the largest LNG Plants being built at the time.
She then moved there and spent two years as a Process Control Engineer, working on coal seam gas rigs in Queensland.
Sarini then decided she wanted to come to Europe and secured a contractor role with ExxonMobil at Fife Ethylene Plant, working on a project to replace the old control system. She was then offered a permanent post and has been there ever since.
"Anyone looking for a varied career – one that's interesting, gives them great opportunities to progress and the chance to work all over the world – then this is a great choice," she said.
"It is such a varied field that, if they are interested in science, then they should definitely consider it.
"As an Applications' Engineer it is my job to maintain and optimise our process control system. I design and implement automated control of new and installed process units to improve operability and optimise efficiencies to reduce costs and maximise productivity in order to keep the plant running safely and smoothly. It's a very interesting role where I get to put what I studied in University into practice and learn lots in an evolving, dynamic environment."