ExxonMobil, SGN, Green Investment Group sign MoU to explore potential for Southampton Hydrogen hub
A Memorandum of Understanding (MoU) signed to explore the use of hydrogen and carbon capture to help reduce emissions in the Southampton industrial cluster.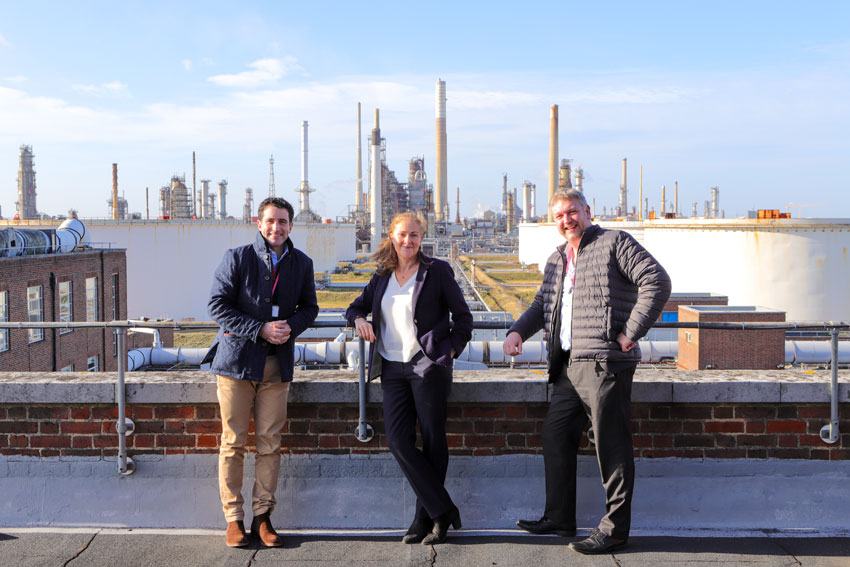 SOUTHAMPTON, UK – SGN, Macquarie's Green Investment Group (GIG) and Esso Petroleum Company, Limited (an ExxonMobil affiliate) announced today that they have signed a Memorandum of Understanding (MoU) to explore the use of hydrogen and carbon capture to help reduce emissions in the Southampton industrial cluster. Southampton has one of the largest industrial sectors in the United Kingdom, and is both a critical element of the country's energy supply chain and an important gateway for trade in global markets.
An initial feasibility study by SGN and GIG shows the annual hydrogen demand from the cluster, which is home to ExxonMobil's Fawley complex, could rise to as much as 37 TWh by 2050, including the heating demand of 800,000 homes across the South of England. An increase in the use of hydrogen with carbon capture would help reduce emissions in the area's industrial sector and stimulate the local economy through the conversion of the natural gas network, while helping reduce emissions from domestic heating and transport.
The feasibility study estimated that carbon capture facilities could initially capture approximately 2 million tonnes of CO2 per year, including from initial hydrogen production of around 4.3 TWh of hydrogen per year. This could also attract significant investment in the community, support existing employment and stimulate the creation of local jobs. If technical and business feasibility is confirmed, and with the right Government support, hydrogen production could commence as early as 2030.
Angus McIntosh, Director of Energy Futures at SGN said: "Hydrogen will be key in our journey to net zero, providing a reliable, affordable and practical supply of clean energy to multiple sectors whilst ensuring security of supply. The creation of hydrogen hubs in and around industry is a great way of achieving scaled hydrogen demand and creating hydrogen economies. We are pleased to partner in this project to explore decarbonisation of the Solent area and build on the outputs of the feasibility study. This project can kick start a net zero industrial cluster in Southampton and stimulate net zero gas networks across the South of England."
Edward Northam, head of GIG Europe said: "Hydrogen will play a vital role in decarbonising industrial clusters like Southampton, and so it is extremely positive that our recent exploratory study has concluded that this hydrogen project is both technologically and economically feasible. Getting the project to development will require close partnership with local industry – which is why ExxonMobil, a potential cornerstone producer and user of hydrogen, joining our project is a significant step forward."
Joe Blommaert, president of ExxonMobil Low Carbon Solutions said: "Hydrogen has the potential to help provide customers with access to affordable, reliable energy while minimising emissions. We are pleased to be part of this collaboration that includes a technical study to assess the potential for the Fawley facility to play a key role in both hydrogen production and carbon capture and storage solutions. With well-designed policy and regulations, hydrogen can help reduce the emissions of the Southampton industrial area that provides vital products for modern life."

About SGN
SGN manages the network that distributes natural and green gas to 5.9 million homes and businesses across Scotland, southern England and the western region of Northern Ireland. Our pipes deliver gas safely, reliably and efficiently to every one of our customers.
Since our rebrand in 2014, we are no longer known as Scotland Gas Networks, Southern Gas Networks or Scotia Gas Networks. Please refer to us as gas distribution company SGN.
Whatever time of day or night, anyone who smells gas should dial the National Gas Emergency Number – 0800 111 999*. Lines are open 24 hours a day, 365 days a year and calls are free.
Find all our press releases and statements on our website – sgn.co.uk.
About Green Investment Group
Macquarie's Green Investment Group (GIG) is a specialist in green infrastructure principal investment, project development and delivery, green impact advisory and the management of portfolio assets. Its track record, expertise and capability make it a global leader in green investment and development, dedicated to accelerating the green transition.
Initially launched by the UK Government in 2012 as the Green Investment Bank, it was the first institution of its type in the world. It was purchased by Macquarie in 2017 and combined with Macquarie Capital's renewables team to create one of the world's largest teams of specialist green infrastructure developers and investors. Now operating as the Green Investment Group, the business and its operating platforms have investments or operations in over 25 markets, more than 450 staff and a global development pipeline of over 35 GW.
For more information, visit greeninvestmentgroup.com and macquarie.com.
About ExxonMobil
ExxonMobil, one of the largest publicly traded international energy companies, uses technology and innovation to help meet the world's growing energy needs. ExxonMobil holds an industry-leading inventory of resources, is one of the largest refiners and marketers of petroleum products, and its chemical company is one of the largest in the world. To learn more, visit exxonmobil.com and the Energy Factor.
Follow us on Twitter and LinkedIn.
Further enquiries:
GIG
SGN
ExxonMobil
ExxonMobil UK press office: +44 (0) 1372 222 261
Cautionary Statement: Statements of future events, investment opportunities or conditions in this release are forward-looking statements. Actual future results, including project plans, timing, volumes, and costs; future reductions in emissions and emissions intensity; the evaluation, development, deployment and results of carbon capture and storage projects; and the impact of operational and technology efforts could vary depending on the results of future study and research efforts, including the ability to scale projects and technologies on a commercially competitive basis; the effectiveness of cooperative efforts to develop technologies and projects; any changes in plans or objectives upon final project approvals; the ability to execute operational objectives on a timely and successful basis; the ability to obtain and timing of required governmental and other third party consents; the development and pace of supportive market conditions and national, regional and local policies relating to carbon capture and other emission reduction technologies; changes in laws and regulations including laws and regulations regarding greenhouse gas emissions, carbon costs, and taxes; the outcome of commercial negotiations; trade patterns and the development and enforcement of local, national and international mandates and treaties; unforeseen technical or operational difficulties; changes in supply and demand and other market factors affecting future prices of oil, gas, and petrochemical products; and other factors discussed in this release and under the heading "Factors Affecting Future Results" on the Investors page of ExxonMobil's website at exxonmobil.com.