Virgin Atlantic agrees sustainable aviation fuel supply with Neste and ExxonMobil
Virgin Atlantic Limited and Neste Oyj are pleased to announce the UK supply of 2.5 million litres/2000 metric tonnes of Sustainable Aviation Fuel (SAF), which will be delivered in the first half of 2022 to London Heathrow. The supply is an important step towards the airline's target of 10% SAF by 2030.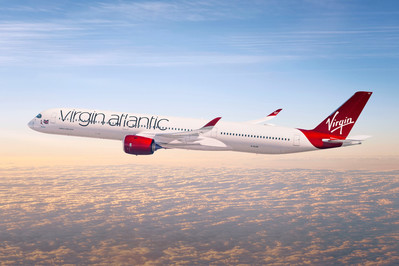 The agreement forms part of a wider collaboration between Virgin Atlantic, one of the world's most fuel-efficient long-haul airlines and Neste, the world's leading provider of SAF, to increase the availability and use of SAF in the UK.
Neste MY Sustainable Aviation Fuel is made from sustainably sourced, renewable waste and residue raw materials. In its neat form, it can reduce greenhouse gas emissions by up to 80%* of life cycle, compared to traditional fossil jet fuel.
Virgin Atlantic and Neste are supported by ExxonMobil's expertise in the supply and distribution of jet fuel to manage this delivery of SAF into the UK. ExxonMobil is Virgin Atlantic's largest fuel supplier at London Heathrow.
With a track record as a sustainability leader for more than 10 years, Virgin Atlantic has committed to achieving net zero by 2050. Today, 100% of its fleet is twin engine and 70% next generation, making it one of the youngest and most fuel-efficient in the skies. This follows a multi-billion-dollar fleet renewal programme that has already delivered a 20% reduction in carbon emissions between 2007 and 2019.
The agreement with Neste represents the first commercial supply of SAF for Virgin Atlantic, following its long-standing commitment to SAF and operation of the first commercial flight on sustainable fuels in 2018.
Holly Boyd-Boland, VP Corporate Development, Virgin Atlantic said: "After fleet renewal, Sustainable Aviation Fuel represents the greatest opportunity to decarbonise aviation in the short to medium term. This supply is the beginning of commercial SAF at scale for Virgin Atlantic and whilst only enough to operate [140] flights between London and New York, it's a starting point.
"To meet our 10% SAF target in 2030 we need to deliver this volume more than [seventy] times over, requiring cross industry and Government action to support commercialisation of SAF at scale, particularly in the UK. We will continue to work closely with Neste and ExxonMobil, as well as wider industry partners, to find innovative solutions to achieve this goal."
Jonathan Wood, Vice President Renewable Aviation from Neste, said: "We are delighted to provide Virgin Atlantic with our Neste MY Sustainable Aviation Fuel. Neste is committed to working together with the aviation industry to achieve its emission reduction targets. We are ready to support the aviation industry and UK government's policy ambitions to increase the use of SAF to at least 10% by 2030. We need to act now - SAF is a proven solution with clear climate benefits and is already available today."
Paul Greenwood, Chairman of Esso UK Ltd (a subsidiary of ExxonMobil), said: "We're proud to play our part in this pioneering agreement, facilitating a safe, secure and reliable supply of lower emission aviation fuel via our dedicated pipeline network.
ENDS
For further press information please contact the Virgin Atlantic press office on press.office@fly.virgin.com or call 01293 747373.
Notes to editors:
*Calculated by Neste Oyj using established life cycle assessment (LCA) methodologies, such as CORSIA methodology.
About Virgin Atlantic
Virgin Atlantic was founded by entrepreneur Sir Richard Branson in 1984, with innovation and amazing customer service at its core. In 2021, Virgin Atlantic was voted Britain's only Global Five Star Airline by APEX for the fifth year running in the Official Airline Ratings. Headquartered in London, it employs 6,500 people worldwide, flying customers to 27 destinations across four continents. Alongside shareholder and Joint Venture partner Delta Air Lines, Virgin Atlantic operates a leading transatlantic network, with onward connections to over 200 cities around the world. On 3 February 2020, Air France-KLM, Delta Air Lines and Virgin Atlantic launched an expanded Joint Venture, offering a comprehensive route network, convenient flight schedules, competitive fares and reciprocal frequent flyer benefits, including the ability to earn and redeem miles across all carriers.
Sustainability remains central to the airline and since September 2019, Virgin Atlantic has welcomed seven brand new Airbus A350-1000 aircraft, helping to transform the fleet into one of the youngest, quietest and most fuel efficient in the sky. By 2022, the airline will operate a streamlined fleet of 38 twin engine aircraft following the retirement of its 747-400s and A340-600s, making its simplified fleet 10% more efficient than before the Covid-19 crisis impacted. For more information visit www.virginatlantic.com or via Facebook, Twitter and Instagram @virginatlantic.
About Neste
Neste (NESTE, Nasdaq Helsinki) creates solutions for combating climate change and accelerating a shift to a circular economy. We refine waste, residues and innovative raw materials into renewable fuels and sustainable feedstock for plastics and other materials. We are the world's leading producer of renewable diesel and sustainable aviation fuel, developing chemical recycling to combat the plastic waste challenge. We aim at helping customers to reduce greenhouse gas emissions with our renewable and circular solutions by at least 20 million tons annually by 2030. As a technologically advanced refiner of high-quality oil products with a commitment to reach carbon-neutral production by 2035, we are also introducing renewable and recycled raw materials such as waste plastic as refinery raw materials. We have consistently been included in the Dow Jones Sustainability Indices and the Global 100 list of the world's most sustainable companies. In 2020, Neste's revenue stood at EUR 11.8 billion, with 94% of the company's comparable operating profit coming from renewable products. Read more: neste.com
About ExxonMobil
ExxonMobil, one of the largest publicly traded international energy companies, uses technology and innovation to help meet the world's growing energy needs. ExxonMobil holds an industry-leading inventory of resources, is one of the largest refiners and marketers of petroleum products, and its chemical company is one of the largest in the world. To learn more, visit exxonmobil.com, the Energy Factor and Carbon capture and storage | ExxonMobil.