In conversation with Michael Foley, Low Carbon Solutions
Michael Foley talks to Newsline about taking on the role of Hydrogen Business Executive for ExxonMobil's Low Carbon Solutions business in the UK as part of the EAME team.
Despite the current challenges and remarkable opportunities that lie ahead, Michael has his feet firmly on the ground and is a keen advocate for a good work-life balance. Here, he shares why he's embracing this exciting new chapter of his career to help ExxonMobil chart a course through the global transition to a low carbon future.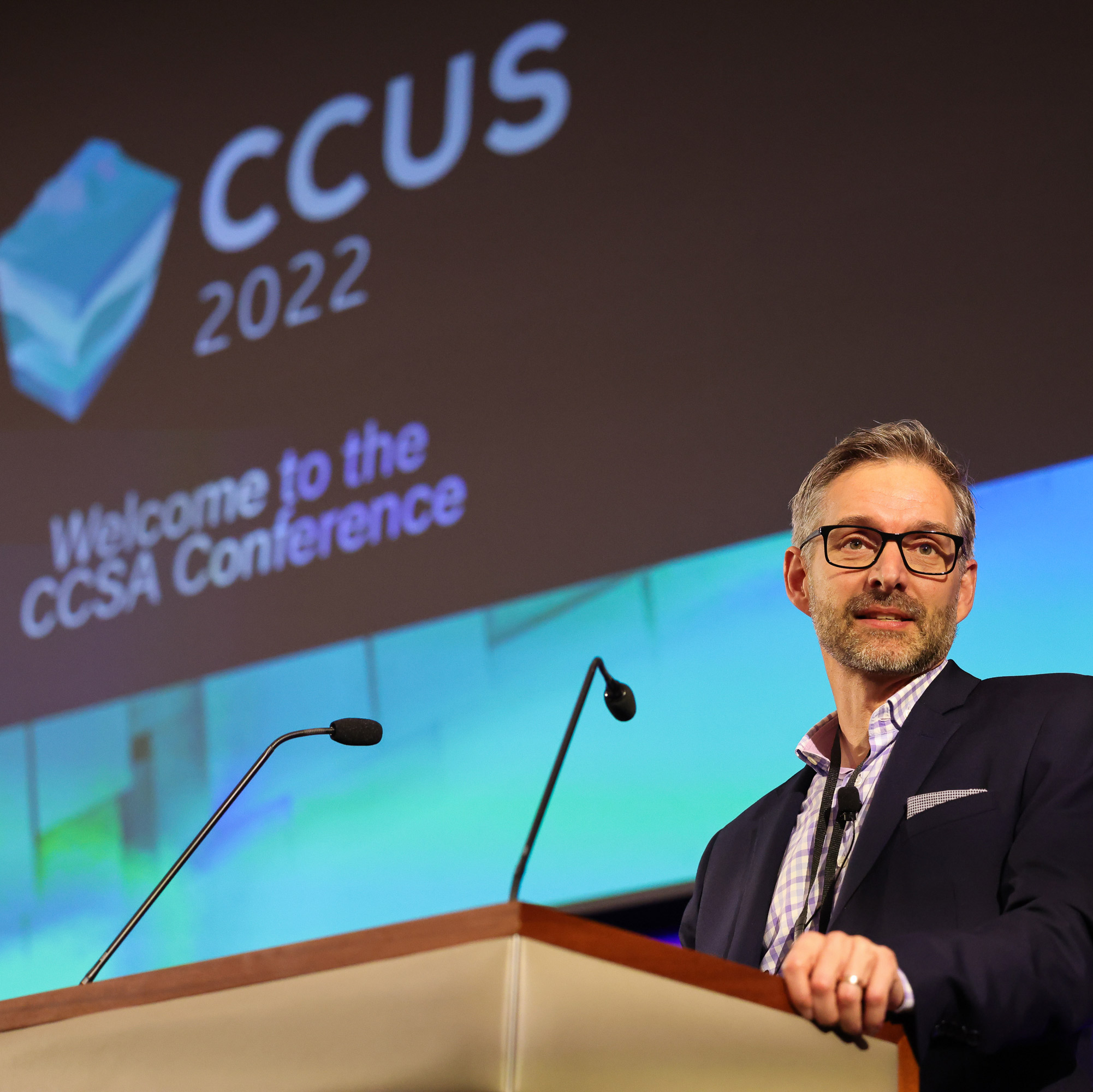 Can you tell us about your career with ExxonMobil to date?
I've been with the Company for more than 20 years now, having joined in the UK, where I spent 10 years working on our upstream assets in engineering and business planning roles. I then relocated to the US, followed by assignments in Angola and Malaysia. Most recently, I was in the corporate investor relations group in Dallas, before my family and I returned to the UK in May this year.
What made you choose this leadership role?
Whilst LCS is a new business (I think I was employee number 50 globally!), directly or indirectly, everyone at ExxonMobil will be working towards the development or application of low carbon technology solutions given our corporate net zero ambitions. Personally, I wanted to combine my original engineering and problem-solving skills with my leadership experience to address some of the challenges society has around energy transition. I know it's a passion I share with many colleagues.
Have you a background in low carbon technologies?
Throughout my career, I've worked to improve energy efficiency, be that helping to reduce emissions from our upstream operations or identifying the scale of opportunity that we're now pursuing around carbon capture and storage (CCS) and hydrogen. When working in investor relations, it was noticeable the level of interest in the environment, social and governance (ESG) agenda, and ExxonMobil's role in energy transition. I spent three years very heavily engaged in a strategic debate around what our Company was going to do, and I think that instilled my passion to move into this area.
What is ExxonMobil's role in energy transition?
Our mission is to reduce emissions from our operations and realise our potential as a low carbon market leader globally, as we are one of the few companies able to see and potentially deliver the scale and pace of what the world needs for society to become net zero. The growth in hydrogen and CCS is significant - trillion-dollar markets – so yes, we have the ambition to be a significant player. However, as a global corporation, Exxon Mobil is very thoughtful and has taken time to ensure it understands what role it is going to play in energy transition. I have been fortunate to spend time with the global management committee and the CEO and I can tell you all of them feel passionate about the role our Company has in helping society with this.
With LCS, we now have clarity on our areas of focus, which are hydrogen, CCS and biofuels. Hopefully the governments we work with, our customers and partners, and everyone within the company are now seeing us really moving ahead in this area. There is a lot of interest, particularly among employees who are curious about the many exciting career opportunities ahead.
What is a typical working week for you?
Really busy for sure, but I don't have a typical week! I'm based in Leatherhead, but spend a lot of time in London, working with customers, Government and relevant trade associations. I also spend an equal amount of time in Edinburgh and Aberdeen, where we have partners such as Shell, and in Fawley where we are a key player in the new Solent Cluster to develop low carbon hydrogen, CCS and sustainable fuels there. I also work from home occasionally, which provides me the opportunity to balance work with demands on my time as a husband and father of three.
Much of my work involves engaging with the UK Government to gain support for the Low Carbon Solutions that we are seeking to invest in. Demonstrating our operations are run safely and efficiently is critical to us getting the investment needed. I never underestimate the importance of communication or of strong relationships – both are critical to success, especially in times where the political landscape is changing.
What projects is LCS currently developing?
We're working with Shell on a proposal for a hydrogen plant at Mossmorran where we operate the Fife Ethylene Plant and Shell operates the Natural Gas Liquids plant that supplies it. If implemented, this would be a major project and everyone at FEP will have a role in helping to bring it to fruition. We're quite far along in that process as a member of the #ScottishCluster, which has proven to be a good regional model.
In Fawley, we're enthusiastic about a new regional cluster partnership too, which includes the University of Southampton and the Local Enterprise Partnership. Having officially launched on 1 November, we're now looking at how we could use hydrogen (blue and green), CCS and sustainable fuels for the aviation and marine industries to decarbonise both our own assets and the region as well. It has been exciting to bring this cluster together, as our Fawley refinery is at its heart. It has also helped reinforce how attractive the UK could be as a place to invest.
Overall, in the UK, Government has the ambition of six decarbonising industrial clusters in the UK. The intent is to have two decarbonised industrial clusters online by 2027 and then another two online by 2030. The first two - in the northwest and the northeast - have already been selected. We are expecting the Government to release the second track early next year and hopeful the Scottish Cluster and Fawley will be part of that. What's exciting is we think we have found an opportunity for CCS in the English Channel. We're also looking at offshore storage in the North Sea for both the UK as well as European and global storage as well. The process is run by the UK Government, but the Scottish Government is supportive too as Scotland needs progress to reach its ambitions of being net zero by 2045.
How many people currently work for the LCS business in the UK?
We are a small team of up to 20 right now, but we have a lot of other people supporting us directly or indirectly such as the ExxonMobil Technology (EMTech) organisation, geoscientists and other technical resources in global projects. It's my expectation that our team will grow very rapidly in the near term, as we mature our exciting projects. This will provide opportunities for internal moves and targeted recruitment in areas where we don't have existing skills.
Is LCS solely focused on the low carbon areas where ExxonMobil has expertise, or do you see it expanding into other markets such as fuel cell technology?
I'd say we are starting with carbon capture, hydrogen and sustainable fuels because they're areas we can really deploy our competitive advantages in, but we are also monitoring other areas too. There's a lot of work going on in Houston around other areas we may want to enter, for example, hydrogen for mobility, which would include partnering with heavy duty and large vehicle manufacturing companies. And we're already working with marine and aviation companies around sustainable fuels and we're looking at a number of other emerging technologies. I think we're going to move more quickly than in the past, not least because the world is moving so rapidly.
Will R&D play an even greater role for ExxonMobil going forward?
I often get asked questions about new technology and whilst there is an element of that, what's exciting is a lot of the solutions that society needs for the energy transition, we know about already. But now, we're doing it in a different scale and with a different approach. What's interesting if you look at CCS and hydrogen today, it is work we've been doing for some time. For example, when I ran upstream operations, we were already injecting gas into reservoirs and so we are looking at doing that with CO2. And we've been producing hydrogen in our refineries for a long time. ExxonMobil has captured more anthropogenic CO2 than any other company, and since the 1970s, we've captured more cumulative CO2 than the next four biggest companies. We are also number two in CO2 transport pipelines in the world and today have interest in about 9 million tonnes per year of CO2 storage.
Would you say the opportunities are two-fold then because LCS will help ExxonMobil decarbonise its own operations and at the same time, provide commercial solutions for other sectors and organisations?
Yes, exactly that. If we were only seeking to decarbonise our existing assets, I'd not be convinced we'd need a dedicated LCS business. Whilst we can help our existing businesses to decarbonise their processes cost effectively, our job is also to ask what opportunities we can build from that? For example, is there a way we can help link with customers who may want those low emission fuels for their own net zero aims? Are there technologies society needs that we can provide, such as hydrogen for home heating? This is the huge potential of our LCS business!
How can colleagues help improve awareness of ExxonMobil's work in these areas?
I think there is a lack of awareness of the important role oil and gas companies such as ours have in the energy transition and a lot of misinformation about what achieving net-zero is going to need as well. For example, if you look at the peer reviewed evaluations of what the energy mix will likely be in 2050 when we're at Net Zero, there is still a large amount of oil and gas. Of course, we've got to do something about the emissions, but there is a lack of understanding about the fact we will still require some oil and gas for energy. And, as I like to remind people, not all oil and gas is burned – a large part of a barrel goes into manufacturing chemicals and lubricants that are essential for society.
I really empathise with our employees as there's a negative view of our industry at the moment. But our employees represent our industry and our company to their families, communities and friends. So, I absolutely believe that we have to equip our colleagues with the knowledge and the understanding to be able to explain what role the energy companies have today, what we bring to society and the role we can have in the transition to a low carbon future. This is not well understood and there are a lot of misconceptions.
I recall someone saying to me that 16 August 2022 marked 10,000 days to 2050. Wow! If you look back 10,000 days that would take us to 1995, which doesn't seem that long ago. But that's the timeframe we have. That pace and scale will necessitate taking all the solutions and require everyone across society to work together. As a company, we can help move things forward as we are good at executing large projects. We've got our existing asset base and we've got a talented workforce that can rise to these complex challenges. But as leaders, we must recognise the reputation our industry has and work extra hard to build strong relationships and use effective communication skills to articulate what we are doing.