Les Bids Farewell After 50 Years' Service
Les Bids Farewell After 50 Years' Service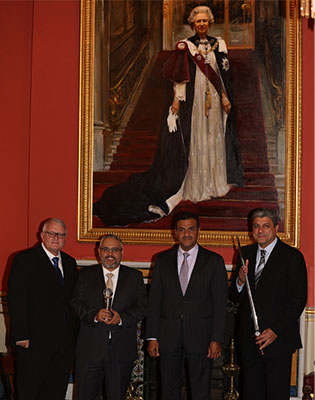 When a young Les Morton joined what was to become ExxonMobil on 2 September 1971 to train as a marine engineer, he could never have foreseen a 50-year career ahead of him. Half a century later and Les is saying farewell to the Company that has enabled him to travel the world and drive-up safety standards across the marine industry. Newsline spoke to Les just before he left the Company on 30 September, 2021 to reflect on his remarkable 50 years' of service.
Les joined ExxonMobil aged 17 as a marine engineering cadet. He was sponsored to attend marine school in North East England, and after several years in college and one at sea, he graduated as a Marine engineer.
Since those early days in the seventies, Les has taken on a wide variety of roles with ExxonMobil from engineering projects and a spell at Fawley Refinery to being part of the startup team for a company called Petroleum Shipping Ltd, created as part of the marine restructuring that followed the Exxon Valdez incident. To his own surprise, he also became an accountant and a senior economic analyst – a far cry from his early days, but his potential was obviously spotted!
Les explains: "In retrospect, something which stands out is how I had to adapt and embrace new roles outside of my comfort zone. I remember a cathartic moment when I suddenly realised one can do anything if you've got an open mind and you're willing to face a challenge head on!"
But he admits his happiest and most rewarding times have come from his involvement in the world of marine quality assurance. "I've been the company's global marine quality assurance manager with responsibility for the quality assurance teams we have based around the world. This has been the most exciting job I've had, as it gave us an opportunity to influence and drive improvements in safety and quality standards in the marine industry. Not many people get that privilege and, as a team, we worked really hard to identify and implement improvement opportunities."
During this time came a career highlight when Les and his team at the Qatargas joint venture received the prestigious British Safety Council Sword of Honour award (OH&S Management) and the Globe of Honour (Environmental Management). He says: "I am incredibly proud that Qatargas was the first Qatari company to achieve this honour and we went on to secure those awards for six consecutive years until COVID arrived and I returned to the UK."
As we chatted, Les also spoke about the most noteworthy changes he has seen during his long career with ExxonMobil. He recalls: "Alongside the changes brought by technology and IT, I think experiencing how the Company has become a more inclusive employer over the years is particularly significant.
"When I first joined ExxonMobil (and particularly in the areas that I've worked in) the Company was very male orientated. Over the years, it has transitioned into an inclusive organisation that reflects the values people from all backgrounds, cultures and genders have to offer. This cultural change has enriched the company's ability to trade in today's world, which is very different from the 1970s that I recall from my early days. Those joining ExxonMobil today will take this for granted, but reflecting back, this cultural change evolved over many years and required a mindset adjustment for many of those on the journey."
When asked about what he will miss on leaving ExxonMobil, Les doesn't hesitate to say it will be the people. He says: "I've had the privilege to work with lots of really great people. The interface with others is such an important part of what we do."
Rather than taking it easy and taking a much-deserved rest after 50 years' service, Les plans to stay in the industry so he can continue contributing as a consultant on a part-time basis. (Although rather than him not being ready for retirement, Les jokes it is actually his wife who isn't ready for his retirement just yet!)
Sadly due to COVID-19 restrictions, Les has been unable to enjoy a face-to-face farewell party with his colleagues, but he was honoured on a zoom call hosted by his boss Emilio Tsocalis, who is based in Houston. More than sixty colleagues and friends paid tribute to his long service with the company and congratulated him on his many achievements.
"It is fair to say my time with ExxonMobil has been an extremely rewarding journey," he concludes. "The Company has provided me with the opportunity to develop both personally and professionally and I feel very privileged to have had that. When I joined all those years ago, I didn't expect to have experienced all the different roles I've had. I was simply going to be a marine engineer!"