Huge load travels 700 miles from Moerdijk to Mossmorran
A huge new piece of equipment, which will be installed as part of Fife Ethylene Plant's £140m investment project has arrived on site.
The 170 tonne, 14 metre by 6 metre Regenerator, is a clever piece of engineering that heats and cools air from the plant's gas turbine. It arrived during the early hours one Friday morning, after an epic 700-mile journey from the Netherlands, arriving by ship at Burntisland East Dock.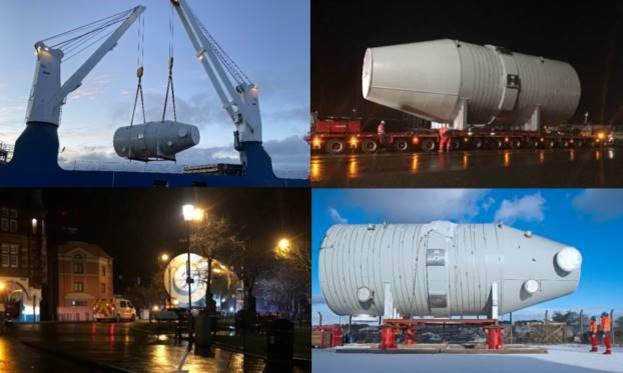 In howling wind and rain and with a full police escort, the regenerator began the final stage of its journey by road on the A909 from Burntisland to Mossmorran. Roads through Burntisland were closed for a short period to allow the huge flat-bed truck and its cargo to pass through safely over the hill towards Cowdenbeath.
Billy Hogg, project manager, said: "The journey was captured by residents in Burntisland, with windows opened wide and people on the streets. Even babies were being well wrapped up and taken outside to watch it passing by."
Huge load travels 700 miles from Moerdijk to Mossmorran