Esso plans for E10 fuel change
Motorists across the UK are set to shift to a lower carbon fuel with the introduction of E10 at petrol stations in September 2021. The new fuel, which is a mixture of petrol and between 5.5% and 10% ethanol, will help the UK meet its climate change targets. Newsline asked Christine Isaacs, fuels programme advisor, about what this Government mandate means for ExxonMobil and the industry at large.
"Our industry will implement the mandate and increase standard unleaded fuel ethanol content from up to 5 percent to between 5.5% and 10 percent," explains Christine. "This means a collective effort is underway to manage the change as effectively as possible. All fuel companies are making this change over the summer."
95 per cent of petrol cars will be able to take the new petrol with no problem. However, a small number of older vehicles from before 2011 and classic cars will continue to need E5 petrol. Some motorbikes, boats, light aircraft and machinery such as lawn mowers will also be incompatible with the new E10 petrol. They will still be able to use E5 petrol maintained in the 'Super' petrol grade. For Esso, this is Synergy Supreme+ 99 petrol. E10 is becoming the standard (95 octane) petrol – so almost all filling stations will sell E10 (some exceptions for remote parts Scotland).
The change to E10 is involving people from many different areas of ExxonMobil – "a cross-trib team" says Christine. "Firstly, we have to start manufacturing regular unleaded fuel with this higher ethanol content. There's a lot of work being put into the management of change at the refinery to ensure we're making enough of this new product and the existing 99 grade to meet demand. And then there's the time that it takes to put it up the pipeline to our terminals and out on trucks, deliver it to the forecourt and turn the tanks. Secondly, all the site pumps and nozzles have to be re-labelled by the 1 September in line with Government messaging."
She adds: "A product change is something that doesn't happen very often and is a complex process. It takes time and a team effort to get all the preparations done. However, I think everyone in the team has enjoyed working as a combined value chain. We all have a common goal and want to be doing as good a job as possible. Our whole industry is having to make this change, so the pressure is on to ensure we meet the government timing, adhere to the guidelines, deliver the new fuel, and the backup fuel."
The change to E10 fuel will bring the UK in line with other European countries and the UK Government estimates that it will help cut transport CO2 emissions by an estimated 750,000 tonnes a year, reducing the environmental impact associated with petrol engines and helping to meet the UK's climate change targets.
In support of the industry, the Department for Transport is rolling out a nationwide public information campaign to signpost consumers to an online E10 compatibility checker, so they can check the right fuel options for their vehicle. The Government's message is: If you fill up with the wrong fuel, it's not going to break your car. Just get it right next time!
For Christine and her colleagues, this is not an option. They are working hard to ensure they get it right first time!
Helpful Links: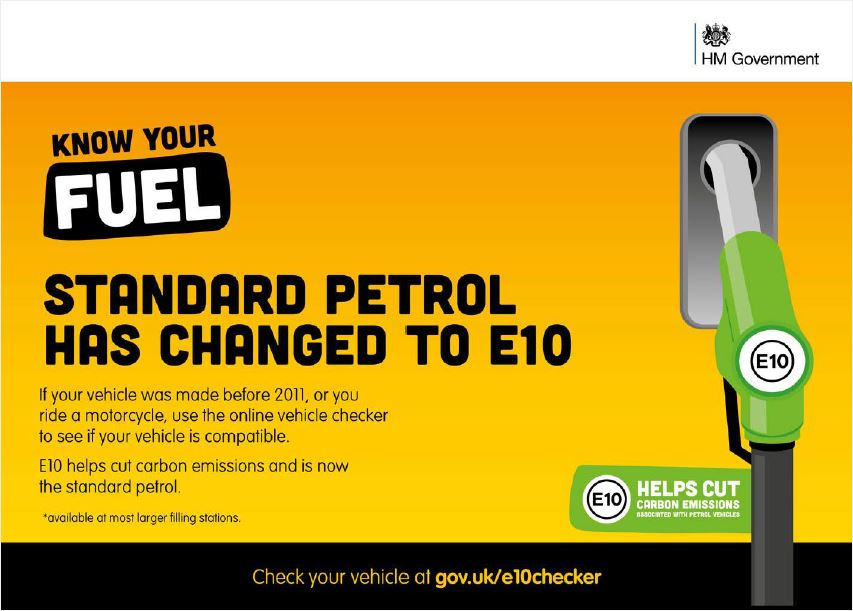 Esso plans for E10 fuel change